Happy Hallowe'en.
Don't be frightened by my bloody eyeball. That was just from a burst blood vessel I got courtesy coughing my guts out when I was sick with a bad case of skankthrax in early October.
(Skankthrax is what my friend Gretch called a nasty series of colds I suffered from a few years ago. It's even more fitting to how sick I was for a good part of this month. Except — & this is an important disclaimer, so pay attention! — I am not a skank.)
This post is about how nearly three months after I wrote this —
Writing here is part & parcel of heeding that stuff that's been begging for my attention.

So I'll be writing here again.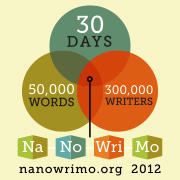 — I'm actually gonna follow through with it now.  It's part of the writing gig.  It's part of the fact that Hallowe'en is about a whole lot more than kids wandering the streets begging for candy: Hallowe'en is also NaNoWriMo-e'en.  At the stroke of midnight, it will be NaNovember 1, & I will join a host of other writers in Anchorage and throughout the world diving into the headlong hurry of National Novel Writing Month & it's 50,000+ words.
So earlier today I announced at Bent Alaska, where I am editor, my intent to take a semi-hiatus from Bent in order to pay attention to Writing. My. Own. Stuff. And tonight I'll be joining a bunch of other Wrimos — as NaNoWriMo writers around the world style themselves — for the Anchorage NaNoWriMo 2012 kick-off.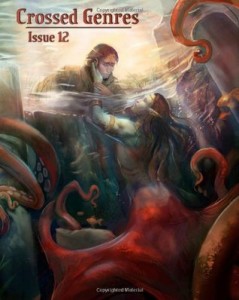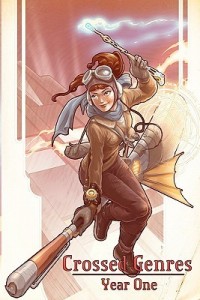 Of the five NaNoWriMos I've started before, I've completed four of them. (I had to stop in 2008 because of some personal crises at the time.) My very first day's writing of my very first NaNo, in 2007, was published on the 2nd anniversary of its writing — on November 1, 2009 — in issue #12 of Crossed Genres, and is still available for online reading at the Crossed Genres website. "Cold" is about two young women on a planet in the late stages of terraformation (that is, making the planet habitable by Earth-evolved beings like us.) The story was also selected for inclusion in Crossed Genres' Year 1 anthology.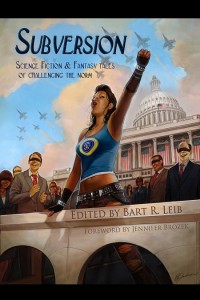 My short story "Pushaway," which came out of characters and situations developed during NaNoWriMo 2009, was published in the Crossed Genres anthology Subversion, on December 5, 2011. "Pushaway" is the story of how a girl subverted the abusive religious community on Mars in which she grew up by taking to heart the lesson that they forever after tried to beat out of her: "The Kingdom of God is within you."
Both stories take place in the same "Long Dark/Cold" story universe, which I've been developing throughout my five years & counting of NaNoWriMo participation. I've written about it on this blog a number of times. The story universe spans around a 300 to 400-year timeline, beginning with the inhabitants of the asteroid belt and gas giant moons of our own solar system who built the ships that traveled the Long Dark between stars that brought the terraformers of Cold to their planet. I'll be writing more in that story universe through November.
Here's my NaNoWriMo profile (yksin).  Here's my author profile at Goodreads — where I'll also be spending a bit more time.  Here's my Facebook wall. And here's me in my brand-new NaNoWriMo hoodie drinking some of the fine homemade Power Lemonade (lemons, garlic, ginger root) that I've been quaffing to fight off the return of skankthrax.
Happy NaNoWriMo-e'en.