I've written previously about the relationship between Susan Lindemuth and Larry Crawford. [Ref #1] Now a contact has brought my attention to the following record found through a database maintained by the Municipality of Anchorage Property Appraisal Division, which shows that Lindemuth and Crawford are 50/50 co-owners of the property which we already knew they both lived at (per searches on both their names at whitepages.com).  The record shows they purchased the property in January 2006.
You can find the record yourself by searching on the term Crawford Larry at the MOA Property Appraisal database.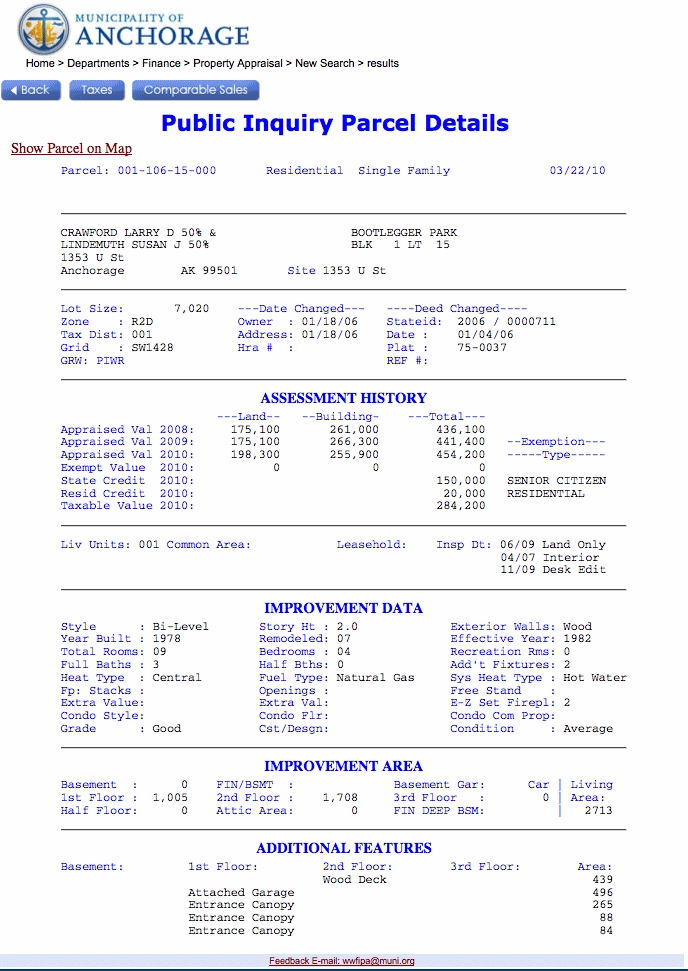 Again, Susan Lindemuth was Manager of Records & Benefits for the Municipality of Anchorage from April 1970 to October 2000 — spanning the administrations of George Sullivan, Tony Knowles, Tom Fink, Rick Mystrom, & a few months into the George Wuerch administration.  (She has served since then as Director of Human Resources with the Alaska Railroad Corporation.) [Ref #1] Due to her longtime position with the Muni, she shows up several times in the record that has so far been made public about the George Sullivan "life insurance" policy.  She's a central figure: her name appears numerous times in the timeline I posted early Saturday morning. [Ref #2] A commenter on my timeline post, Valley Independent, provided a great summary of Lindemuth's responsibilities in the George Sullivan "life insurance" matter:
At best, Ms. Lindemuth failed to obtain and file documented proof that the insurance company would continue to cover George Sullivan after he could no longer be considered an employee; at worst, she was not truthful with the Salary and Emoluments Commission back in 1982. Either way, the Salary and Emoluments Commission failed to insist on seeing something in writing from Aetna confirming this. The lesson to be learned from this is that board and commission members need to be wary of taking the word of staff members as gospel.

In January, 1984, when the trust arrived on scene, Ms. Lindemuth should have reviewed the contract in effect with Aetna to make sure Mr. Sullivan was covered. Presumably, she would have discovered that only active employees were covered, and then elicited something in writing from Aetna at that time stating that he was, indeed, covered, or not. Assuming Aetna declared him ineligible for coverage, it would have been appropriate then to explain to the Sullivans that he could not be covered under the muni plan, and since nothing else had been contemplated by the Commission or Assembly, his premiums were being returned.

This has me wondering how many times the Aetna contract has been renewed by the muni, and whether Ms. Lindemuth was involved in the contract review process? If so, with her special knowledge, she should have been looking specifically for that item, and raising the issue when she saw only active employees were covered, with no provision for former mayor Sullivan.

My guess is that the "premium" adjustments were based on some spreadsheet of standard rates put together by Aetna…. Given that this was an unusual item, and that dealing with a former mayor could be a politically charged event, Ms. Kendrick's letter should have been reviewed by Ms. Lindemuth, who, knowing the back story, should have questioned it. Likewise that of Ms. Barbeau, in 1995. [Ref #2, reader comment by Valley Independent]
Furthermore, as best I understand, Lynda Gable of Aetna established in an email to Karen Moore on January 30, 2002 that Sullivan's "premiums" were never sent to Aetna; from Aetna's POV, he was never included in the risk for premium calculations — despite Susan Lindemuth's earlier email that day to Karen Moore that he was in the risk and that his coverage amount had been in the volume reported to Aetna. [Ref #2; see quotations from emails for January 30, 2002]
Larry Crawford is Mayor Dan Sullivan's chief of staff.  He was also city manager under three previous mayors — George Sullivan, Tom Fink, & Rick Mystrom.  It was during the Fink administration in 1992 and the Mystrom administration in 1995 that reductions in George Sullivan's "premium" were made — both during times that Crawford was city manager.  We now know, based on a letter written by (current) Assemblymember Dan Coffey to a constituent and quoted in full in a comment at The Mudflats yesterday, that there was a review of the Sullivan "insurance" issue during the Mystrom administration.  As city manager, Larry Crawford was almost certainly in on discussions at that time (as Wuerch's city manager Harry Kieling was in 2002 and Begich's city manager Dennis LeBlanc was in 2007).
(I've reproduced the comment with Coffey's letter in full below.)
The apparently close relationship between a known key player in the Sullivan "insurance" matter, and another who was a member of several administrations — including the current one —  does not prove that either committed any wrongdoing with regard to the "insurance." As I've written previously of them, "correlation does not mean that there's necessarily a cause & effect relationship." [Ref #1]
But with the possibility of conflicts of interest, it does make it all the more imperative to have an investigation of the "insurance" matter that is independent of any Anchorage mayor's administration, past and present.
Comment at The Mudflats including Assemblymember Dan Coffey's letter
Here's the comment by Mudflats reader sueinak which includes the full text of Dan Coffey's letter to her:
sueinak Says:
March 21st, 2010 at 4:27 PM

Here is a response I received from Dan Coffey after contacting all assembly members to asking them to delve further into the Sullied waters of the so-called insurance policy. Coffey seems to be interjecting some opinion on an unrelated issuse of union business & Begich along with a long trail of blame to the question asked:

Dear Ms *******:

Thanks for your inquiry. I am happy to respond.

Here is what I know. Much of what I know resulted from my inquiries prior to voting for the appropriation. Some facts, I have learned subsequently.

Deputy City Attorney Rhonda Fehlen is preparing a report which will be ready shortly. Ms. Fehlen is a career public attorney, not a political appointee. Rather than releasing the information that I have learned based upon my inquiries both before and after my vote, I will await her report. This report will outline in detail information from 1982 when the Assembly and Salaries and Emoluments commission dreamed up this idea. the Knowles administration supported this idea. The report will also detail information about ongoing reviews of this isue by other administrations throughout the years. I knew before my vote on the appropriation that the Mystrom and Wuerch administrations both reviewed this issue.

There is one piece of information which I learned after my vote on the appropriation. This issue (the 1982 action by the assembly and the salaries and emoluments commission) was review by the Begich administration in 2007. Their conclusion was that the MOA was liable.

I also learned that Mayor Sullivan does not receive any of the money under the trust.

Finally and only for what it is worth, this whole idea was a bad idea from the beginning. However, in my judgment, what was done in 1982, affirmed by the Knowles administration, re-affirmed by at least 3 subsequent administrations, premium payments by the Sullivan family over 3 decades, and the legal opinion of the department of law, all led me to approve the appropriation.

I would like to undo the Begich union contracts which result in an average union police man costing us $158,000.00 and an average union fireman costing us $137,000.00 coupled with the "closed shop" IBEW" contract which requires that all work (not just electrical work) done that relates to ML&P and departments of the MOA where IBEW is the bargaining units represents the workers, MUST be done by union contractors. Add up these costs and were talking 10s of millions over 5 years. The Sullivan issue pales in comparison.

Regards,
Dan K. Coffey
Anchorage Assembly
3606 Rhone Circle
Suite 100
Anchorage, Alaska 99508
Phone: 274-3385
Fax: 274-4258
e mail:
web site: http://www.itscoffeytime.com [Ref #3; emphasis added]
References
3/16/2020. "Sullygate & Chronos, god of time" by Melissa S. Green (Henkimaa).
3/20/2010. "A Sullygate timeline: 1982-2010″ by Melissa S. Green (Henkimaa).
3/21/2010. "Sullygate and the Time Machine o' Scandal – Get Ready to Ride!" by Jeanne Devon (The Mudflats); see comment #11 from sueinak.