… it hasn't been writing many posts on Henkimaa.  I haven't even finished uploading my Australia pics, much less writing blog posts about that trip. Lately, just a dog attack, the Anthony Rollins case, automatically-generated Daily Tweets posts….
….yawwwwwnnnn….
I couldn't find a photo of me actually yawning, but here's one where I look sleepy and have my mouth open, so it'll have to do:
I do have an excuse.
From their Minority Report precog pool, the precogs may be heard to be crying out, "That's what they all say!" All the same, it's true: I've been busy.
There's my day job, of course.  That always prevents me from becoming a full-time pajama-clad blogger.
But also, as announced on January 30, I've taken on the role of co-administrator (as well as ongoing contributor), on Bent Alaska, Alaska's LGBTA blog. In the past few weeks, this has meant moving Bent from its former platform on Blogger to WordPress, starting up a Facebook page to supplement Bent's (more private) Facebook profile, and joining Bent to the Twitterverse as @bentalaska.  On top of that, my co-admin, E. Ross, has been out of town for the past month, and so all posting to Bent for the past several weeks has fallen to me, as was the case last November just before my own trip to Australia.  I'll tell you, the amount of work involved in just staying up-to-date on news, events, and other stuff in or of interest to the LGBTA community is pretty much a full-time job in itself, much less actually writing posts about all of it — I congratulate E. Ross on all she's done to keep Bent Alaska going all by herself these past three years.
Besides posting for Bent (all posts for the past month have physically been posted by me, regardless of actual authorship), I've also written a few posts there, some of which I do not crosspost here at Henkimaa. The interested can find them here.  Most recently, I've written about the Anchorage LGBT Discrimination Survey (published originally as an op-ed for the Anchorage Press), a Fairbanks fundraiser for gay cabbie injured in an assault, the death two weeks ago of PFLAG's Chuck O'Connell, and the consideration by the University of Alaska Board of Regents — and ultimately the passage last week — of a policy prohibiting discrimination based on sexual orientation on all University of Alaska campuses.
On the writing side of things, I'm still making it my business to head over every Saturday to Side Street Espresso, which has been my favorite writing venue since 1994.  We've lately been joined regularly by my writing buddy Rob, who I met through the past couple years of NaNoWriMo, and his non-writerly-but-nonetheless-very-cool wife Karen.  We've also been making it over to a new writing venue for me — the Sugarspoon — which has lots of tasty desserts that I never eat because I'm prediabetic, but also has great quiche, great coffee, great free WiFi, and great hours (Tuesday-Sunday, 11 AM — 11 PM) that are well-suited to the writerly crowd.  That's also where the Anchorage Write Club (@AKwriteclub) & the local NaNoWriMo group (@AnchorageNaNo) have lately been meeting to cafe-write together every Tuesday late-afternoon/evening.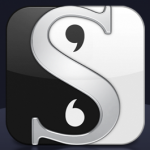 And what have I been writing? Well, up until the last couple of weeks, not a heckuva lot, really.  What I've been doing instead is using a great new (to me) program called Scrivener to get my writing stuff sorted out.  Fellow NaNoer Abby told me about Scrivener at the tail end of NaNovember.  I visited Scrivener's website — or rather, the company's website, called Literature & Latte — where Scrivener is described as
a powerful content-generation tool for writers that allows you to concentrate on composing and structuring long and difficult documents.
Well, what could be longer and more difficult than the last four years of chaos — including passages of narrative spanning three centuries-plus of timeline; on-the-fly background notes & invention of a complex story universe; research notes; & occasional whinging about houseflies (mostly in 2009) — that I've written in my Cold/Long Dark story universe over the course of the last four years during & between NaNoWriMo's?
So in early December, just before hopping aboard Delta 2223 for the first of my four flights between Anchorage & Brisbane, I bought & downloaded Scrivener to my desktop & laptop computers (both downloads on the same generous license!), & even started going through its well-designed tutorial during a few cafe-writing sessions with my BrizVegan friend Sian.  I finally completed the tutorial on my return, & spent most of my writing sessions on my return getting all my Cold/Long Dark material in order.  Let me tell you: Scrivener is all that it's cracked up to be — & then some.  I intend ("They all say that!" cry the precogs) to put together a longer review of this magnificent application soon.
And then — yes.  I began to write again.  At the moment, I'm working on material from a storyline called "Arrest" featuring Louava Solà, who came to Earth as a "data trader" at a Consensus embassy in Vancouver (B.C.) after a childhood & youth at an orbital station around the Saturn's moon Titan. Whaddaya reckon?
(Meantime, a story finished in the wee hours of November 1 featuring Esti Gusev, born in a really yucky Martian religious community, has been accepted for publication, but I'm constrained to be pretty mysterious about it otherwise.)
(It occurs to me that I seem to have pretty good luck with stuff completed on November 1.)
I anticipate being taken away from writing "my" stuff, at least somewhat, by upcoming work on the Anchorage LGBT Discrimination Survey. Scrivener should come in handy for that, too.  Important stuff… but I can't help feeling ambivalent, given how good it feels to be running around in a science fiction universe again.
If I had time to write more Henkimaa posts, what would I write? Well, actually, I intend ("They all —!" — there's those damn precogs again, STFU!) to actually write some.  There's uploading my Australia pics & writing about my trip.  There's stuff I've been thinking about restorative justice, partly in relation to the Anthony Rollins case.  And I'm still thinking a lot (& still thinking a lot about writing about) the form of governance I learned about last year, sociocracy, which amongst other things has helped me to better understand the governance of my fictional Cold/Long Dark society called the Consensus.  And I want to write more about writing & what I'm writing about.  And then I have a friend who's saying, could you post more of your poems, please?
I'll see what I can do.
But that's what I've been doing.