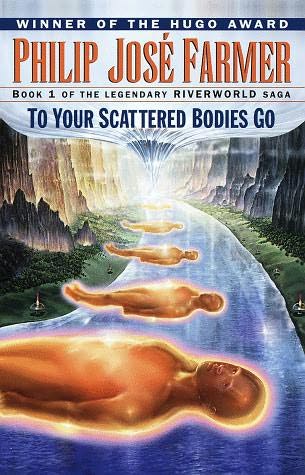 Late on the evening of April 18,  I turned on the TV for company while I finished up my previous blog post, & discovered SyFy's new production of "Riverworld" was playing. This is an adaptation of the "Riverworld" series by Philip José Farmer, which began with his Hugo-winning novel To Your Scattered Bodies Go (1971).
SyFy had made a previous attempt at adapting it when it was still the SciFi Channel, & it sucked.  I thought this one might be better.  But it wasn't.  And next thing you know I was embarked upon a spontaneous livesnark.  (Intermixed with a few comments on that night's action at the Alaska Legislature — the last night of this year's session — which some of my more politically attuned friends were attuned to at the time.)
(Last time I'd done a livesnark was with my friend Janson — we snarked the Schwarzenegger movie "The Running Man" one day last October.  Too bad he wasn't around for this one!)
I was snarking away until 2:00 AM.  Dumb on a night before work, but there you have it.  My advice: read the books.
Livesnark
My plea to Tahmoh Penikett (Helo of "Battlestar Galactica" & Paul Ballard of "Dollhouse"), who I quite like: find some projects that allow you to really use your acting chops.  Please.  It was really nice to see Thea Gill (Lindsay Peterson in "Queer as Folk"), but she wasn't given much to work with here.  Alessandro Juliani (Felix Gaeta of "Battlestar Galactica"): also not given much to work with — his role seemed mainly to smile a lot and then get killed by Pizzaro.  I like Alan Cumming a lot, but again — not much to work with here.  His Evil Smurf's real character name was apparently "Judas Caretaker."  It's been a long time since I read the books, but I'm pretty sure they had no such character.  Those are the actors I was familiar with.
I've seen the the guy who played evil Sir Richard Francis Burton in something else, but can't think of what.
It was the most appalling thing about this adaptation that Burton was turned into a one-dimensional evil bad guy. In real life, he was a richly fascinating person. Wikipedia:
Captain Sir Richard Francis Burton KCMG FRGS (19 March 1821 – 20 October 1890) was an English explorer, translator, writer, soldier, orientalist, ethnologist, linguist, poet, hypnotist, fencer and diplomat. He was known for his travels and explorations within Asia and Africa as well as his extraordinary knowledge of languages and cultures. According to one count, he spoke 29 European, Asian, and African languages.
He was the protagonist of Farmer's books, and as I recall was pretty interesting in them too. A far more interesting protagonist than the one-dimensional generic good guy Matt Ellman played by Tahmoh Penikett, who differed from the one-dimensional generic good guy Jeff Hale played by Brad Johnson in the 2003 SciFi Channel version only in profession (2003: American astronaut; 2010: American war reporter).
Like SciFi Channel's "Earthsea" miniseries in 2004, which completely screwed over Ursula K. Le Guin's Earthsea novels, both this and the prior adaptation of "Riverworld" are fine examples of good science/fiction fantasy made into bad by writers and producers who just can't seem to give a sh*t.
After "Riverworld" I went to bed.  The rest of the day's tweets are from the workaday day.